So I came across a post from the Java Mama Blog
here
about a Biggest Loser Blogger Challenge!
A few friends and myself have teamed up to motivate each other to lose those extra pounds which have been hanging around for just too long! As I mentioned in my 2013 Resolutions Post
here
, my goal is to lose at least 20 pounds this year, so when I came across this blog, I knew I had to link-up as well. It's fun and motivational. With a few friends we created a secret group on Facebook called "The Biggest Loser" to share our victories, meal ideas and to keep motivated. It becomes more easier to keep on track if you have others motivating you.
I started my meal and exericise plan last week and as of Monday, yesterday, I have lost 4 pounds! Pretty happy about that. I've got a long way to go but of course it's boost of motivation to see that scale drop to the left. lol...Using the MyFitnessPal to log meals and exercise has been extremely helpful too, maybe you should try!
Today I will share a Picture of where I would like to be! This picture is from when I was on maternity leave. I took care of my weight and ate right that year. Coming back to work was my problem. The busy schedule, of being a fulltime worker, mom, wife, ministries etc, got me into the habit of eating badly, becuase I wanted quick and easy. And not, to mention, at work there's always free food, lol, and mostly bad things like sweets, I love my sweets!! But I've come to realize that with a little planning, motivation and will POWER from above, we can all eat healthy even with our busy lifestyles. I started also thinking that I don't want to be 40 years old and with alot of health problems. A lot, if not all, of the health problems in North America stem from not eating properly. I want to be healthy for me and for my family. I can do something to today to ensure I'm around for those important moments in my families lives. This is not just about losing weight, I'm determined to make this a lifestyle change!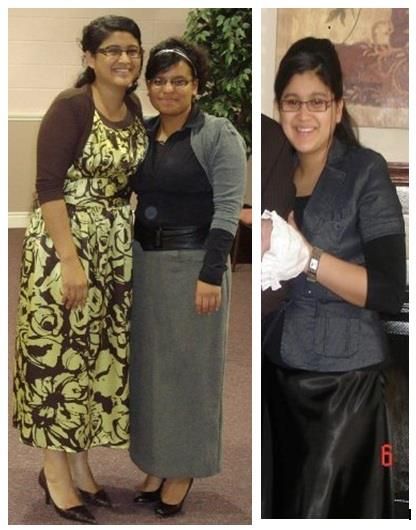 One of my goals during this challenge is to try new receipes each week. I will try to post here about the new things I try, maybe they could help you! :)